Forever Friends
Time
Start
Wed, 16 Sep 2015 09:00:00 +0000
End
Fri, 25 Sep 2015 08:00:00 +0000
B-Side Song
Yuki no Reason

(Easy)
(Normal)
(Hard)
(Expert)

Token
Wing
Main Prize
Other Prizes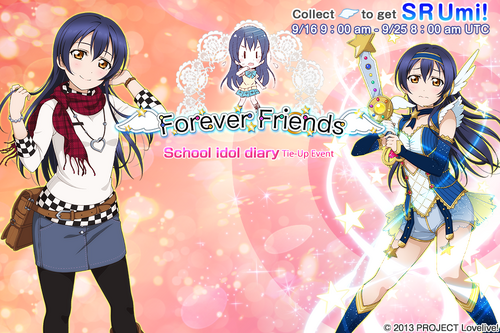 Forever Friends is the upcoming Live Show Event.
Event Rules
Edit

A Live Show Event where you use Wings, gained from normal Live Shows and daily Live Shows, to play in a special event Live Show and collect Event Pts to earn various Rewards.
Collect lots of Event Pts in a Live Show event.
Live Show events cost Wings to play. These can be earned in normal Live Shows and daily Live Shows. (Live Show events do not consume LP.)
Total Event Pts are calculated from the number of Wings collected and the bonus Event Pts collected when a Live Show event is successfully cleared. The Wings paid to play the Live Show event will not be deducted from the overall Event Pt total.
Live Show events can be found by touching the "B-Sides" button in the upper-right corner of the Live Show selection screen. (Special daily Live Shows can also be selected from here.)
If an event finishes while a player is playing a Live Show, they will not gain Event Pts, so please keep this in mind. (EXP, G and Club Members are still rewarded.)
Make sure you collect !
About the Rewards
Edit
There are three types of Rewards: "Event Achievement Rewards," "Event Ranking Rewards," and "Song Ranking Rewards."
"Event Achievement Rewards" are given during the duration of the event, immediately upon collecting a set total of Event Pts.
"Event Ranking Rewards" are given to the players who collected the highest total Event Pts, and are rewarded after the event is complete.
"Song Ranking Rewards" are given after the event is complete, to the players who achieved the highest scores on songs during the Live Show event.
"Event Ranking Rewards" and "Song Ranking Rewards" can be found in the Present box on the Home screen.
Honor Students and Regular Students given as Rewards can be Scouted through the Honor Student Scout and Regular Student Scout screens after the event is complete.
Event Point Rewards
Edit
Event Ranking Rewards
Edit
Event Song Ranking Rewards
Edit
Final Results
Edit
Event Rankings
Edit
| Rank | Event Points |
| --- | --- |
| 1 | 456789 |
| 900 | 27967 |
| 4500 | 20607 |
| 9000 | 13706 |
| 20000 | 11134 |
| 37000 | 4436 |
| 59000 | 1158 |
| 90000 | 116 |
Event Song Rankings
Edit
| Rank | Song Score |
| --- | --- |
| 1 | 426312 |
| 900 | 329623 |
| 4500 | 309009 |
| 9000 | 297153 |
| 20000 | 270462 |
| 37000 | 227033 |
| 59000 | 127151 |
Event Stories
Edit
Story 1
Umi: (Did the doorbell just ring? Who could it be at this hour> Just when I was relaxing in my room, too).


Umi: Honoka?! It's really late, is something wrong?
Honoka: I ran away from home!
Umi: You ran away? I don't know what to say.
Honoka: Don't worry. I'll tell your mom I'm over to get help with my homework.
Umi: But it's after 8. There's really not any time left for that.
Honoka: *Sniffle* Don't worry about it. Anyways, I'm coming in!
Umi: (All I can do is watch Honoka waltz in like she owns the place. I can see her eyes are still a bit red.)
Umi: (Here we go again. *Sigh*)
Umi: (Honoka only lives a couple houses over. Now that I think about it, she hasn't done this running away from home act in a while.)

Story 2
Honoka: Umiiiii! I'm all done with the bath. That was just what I needed. Oh, thanks for letting me borrow your pajamas.


Umi: I didn't have much choice. Do you want to sleep in my room tonight?
Honoka: Yeah! Hehe, we haven't slept together in your bed in ages. Don't get me wrong, I love futons and all, but your bed is the best.
Honoka: It's also pretty fun to put together the sofa beds and sleep together too!
Umi: I see you have no intention of actually doing any homework.
Honoka: H-Huh? Err... Hehehe. It's too late now, right?
Umi: Dear me... Fine, hurry up and get in bed. I'm going to turn the lights out.
Honoka: Y-Yes ma'am. I forgot the Sonodas go to bed early because of lessons in the morning. Let's hurry and sleep!
Umi: Don't snuggle so close to me. It's too hot.

Story 3
Umi: (In an instant, darkness and silence envelop the room.)


Honoka: Hey Umi! You haven't asked my why I ran away.
Umi: Oh? No, I suppose I haven't.
Honoka: Waah, I ran away from home and you don't even care!
Umi: (*Giggle* that's not exactly true, but...)
Umi: Honoka, you've been doing this since we were kids. It's like, the moment I kill the lights, I switch on your mouth and you turn into a chatterbox.
Honoka: Huh? Wow, really? I never noticed.
Umi: Well, I'm listening now. Why'd you run away?
Honoka: Get a load of this. My dad is such a meanie!
Honoka: When we started μ's he was fine with it and said I could do whatever I wanted. But all of a sudden...
Honoka: He goes on and on about how if I'm going to spend all my time with μ's, he's going to pick Yukiho as the heiress of the Homura Bakery! Waaaaaah!

Story 4
Honoka: You understand me, don't you, Umi? I give my all to μ's to protect Otonoki, and I protect Otonoki to protect all of you.


Honoka: It's exactly the same thing as caring for the Homura Bakery, and even caring for the town itself.
Umi: (I sit there listening to Honoka as she sniffles and her tears well up a bit.)
Umi: (To be honest, I think I understand how her father feels.)
Umi: (I'll bet he's feeling a bit lonely.)
Umi: (Honoka truly is focused solely on μ's. She tries so hard, and gives it everything she has.)
Umi: (Before μ's, I imagine she was focused only on her family. A good girl. Vibrant and innocent - yet equally naive.)
Umi: (But because of μ's she's changing little by little.)
Umi: (That's probably making him jealous. Like his precious little girl has fallen in love and is slipping away.)
Umi: (For some reason, I completely understand.)
Umi: Honoka, remember how you'd run away from home like this all the time back in grade school?
Honoka: Huh? I did?