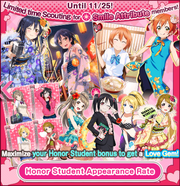 Round 1 of the Limited Scouting will be available from 9:00 am on Thursday, November 20 to 11:59 pm on Tuesday, November 25 (UTC). Round 1 contains only µ's's members with the Smile attribute.
For more details on which members appear, check the Appearance Rate screen for the Smile Limited Scouting.
The special promotion of increased chance for a newly added member and an SR or above guaranteed from the Honor Student Scouting ended at 8:00 am on November 20 (UTC). The SR or above guaranteed promotion is not applicable to Smile Limited Scouting.
We hope you continue to enjoy School idol festival.
November 20, 2014
Scouting Honor Students
Edit
Rates by Rarity
Edit
Attention
Edit
Rates are rounded to the nearest third decimal place, so there are cases when the total is not a perfect 100%.
A player may Scout the same Member more than once.

Characters previously distributed in events have low appearance rates.

(Distributed Characters have a

blue

color)
Scoutable Characters (35 total)
Edit
Ad blocker interference detected!
Wikia is a free-to-use site that makes money from advertising. We have a modified experience for viewers using ad blockers

Wikia is not accessible if you've made further modifications. Remove the custom ad blocker rule(s) and the page will load as expected.